After three years of sick leave and mental health work, appointments, trial and error, and ups and downs, I had finally begun to understand my position on this long journey we call life. I realized
that my responsibility was now to myself and my family, so I could become a naturally evolved, better, stronger individual. A wise person once told me, you must open the door to see the other side. But which door? With all the services available to members of the Canadian Armed Forces (CAF), nothing seemed to be the right fit for me at the time. Opening one door led to another room of possibilities and eventually, I arrived at a door called Camp Aftermath (CA). Naturally, I was hesitant but curious. It did not take long for me to realize that I had stumbled across something incredibly special. I was immediately welcomed by the CA team and our work commenced. I quickly realized that the program offered was exactly what I had been looking for: a vehicle to assist me in focusing my direction, aim, and goals. I discovered that the other participants in the program were all at different levels of transition from the CAF; however, we all had similar goals. Mainly, we all wanted to lead more meaningful and productive lives.
Roto 2 began with weekly video teleconferences prior to our deployment to Costa Rica in March 2020. I feel that this was critical to the success of the program, as it allowed us to get to know one another, to meet the mental health experts, and to get a feel for the program. Next came the commitment: to physically meet in person, let our guard down, and share our experiences. Much like military deployments, there was a natural reaction to keep my guard raised at first, to be hesitant, and to avoid vulnerability. However, that gut instinct I harboured quickly dissolved and I realized that I was surrounded by people just like me, who cared deeply about improving their lives and the lives of others through love, knowledge, and community. I think there is something unique about sharing experiences and hardships in the service of others, which is something that we as veterans all understood. However, I really felt the kinship between us when we flew together down to San Jose, Costa Rica, and got 'boots on the ground', so to speak. There, we met with so many wonderful organizations, namely the good folks at the Costa Rican Humanitarian Foundation and the Dog Sanctuary Territorio de Zaguates. To be able to help others while helping yourself is not something we get to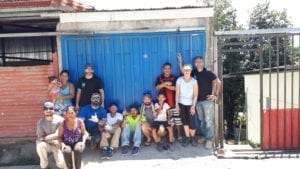 do every day. I felt blessed to be on such a journey and, consequently, years of compartmentalization and apathetic tendencies melted away.
I knew that coming home from such a tremendous high would have its challenges. The CA staff was cognisant of this and planned the final phase of the program (phase three) appropriately. At this point, with a much-needed sense of clarity, I was able to articulate my future goals using the SMART principles and techniques I had learned during the various workshops offered during the program. When I returned home in Canada, the work was not yet over. I continue to check in with the group and we discuss our progress, accomplishments, and even setbacks. In my opinion, this phase of the program is what truly separates Camp Aftermath from other programs out there and this difference can be summarized in one word: accountability.
Alex Cabana served in the Royal Canadian Engineers for 16 years and deployed to Afghanistan.
---
How you can help
There are currently many amazing programs that focus on helping veterans and first responders suffering living with PTSD and operational stress injuries (OSI). If you believe in our cause, please help us make a difference in the lives of five military veterans and first responders slated to experience our three-phased program in early 2021. You can donate to our campaign on Canada Helps.