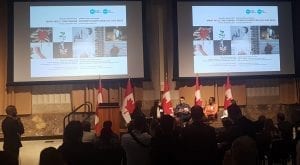 On 18 December 2017, Aftermath Association Chairman Farid Yaghini  attended the "Many Skills, One Canada: ProjectBe Conference 2017" which seeks to address issues refugees face when transitioning to their new lives in Canada.
Farid was asked to speak on his experiences as a refugee in Canada and how it shaped his life. The panel of speakers were a diverse group of inspirational people, all refugees from various war torn countries. All of the speakers spoke of regaining a sense of purpose once they arrived in Canada.
The challenges faced by newly-arriving refugees was similar to those faced by military veterans and first responders transitioning to their lives as civilians. Both groups defined themselves by what they had been in the past, whether that be a citizen of a country, a tribe, a religion, or in uniform. In their new world, members of both groups were essentially challenged to redefine themselves in a new realm.
Farid spoke of Camp Aftermath and its approach to long-term management of PTSD through active philanthropy. Camp Aftermath's unique approach received a warm reception from the panelists,  supporting agencies, and the audience.
Later, Farid was approached by various organizations, such as the United Nations High Commissioner for Refugees (UNHCR) and the Ottawa Community Immigrant Service Organization (OCISO), who showed interest in future collaboration. It was an amazing afternoon and evening filled with inspiring stories of resilience.
Aftermath Association would like to thank ProjectBe organizers, especially Mohammad Zakzouk, for the opportunity to participate in this conference.
For more information on ProjectBe, check out their website: https://www.projectbe-projetsois.com/home