Healing through active philanthropy. The basic premise of what Aftermath was founded on. Our recent volunteer trip has demonstrated the magnitude of this philosophy.
One of my favourite quotes of all time is an accurate reflection of how I see volunteering – "A society grows great when old men plant trees whose shade they know they shall never sit in". Expect nothing in return, but give everything you can to advance the well-being of others because quality of life improves not from the action alone, but from the underlying intention to help.
Camp Aftermath volunteers and our mental health expert, Dr. John Whelan, traveled to Costa Rica recently to run through the itinerary of charity work. The itinerary included volunteer days reconstructing homes, visiting animal and environment sanctuaries, and helping underprivileged children. Each volunteer participated in various activities, but the latter is what resonated with me most on this trip.
We were guided to the city of La Carpio by our sister charity who has been conducting humanitarian work for the last 40 years. La Carpio, a remote area of Costa Rica, is between two very polluted rivers and next to the city's massive landfill. This is where thousands of refugees from the Nicaraguan civil war have settled and is now home to over 34,000 squatters.
Motivated by the opportunity to improve basic health and education, and combat social exclusion, I have always had a passion for volunteerism. Coupled with my love for fitness, I've managed to combine the two on this trip.
Knowing that we were visiting these children who speak a different language than my own, I wanted to find a way to still connect with them. I wanted to provide these children with an experience that will energize them, engage them, and tap into their overall resilience and strength. And so two weeks before our departure for Costa Rica, I completed my certification to be a POUND instructor. What is POUND?
A 45-minute cardio jam session for all fitness levels, using lightly weighted drumsticks for a fun and energizing workout. Instead of simply listening to the music, you become the music in this full-body workout that combines cardio, conditioning, and strength training with yoga and pilates-inspired movements. Instead of counting reps or keeping track of the clock, the shift is on the rhythm and volume of the music.
On our Orientation Trip, the Costa Rican Humanitarian Foundation reserved two time slots for me to teach on a voluntary basis for the underprivileged children of La Carpio and Golfito. In less than 2 weeks of holding my certification, I taught my first POUND class in the streets of La Carpio. Known as Costa Rica's most infamous shantytown, La Carpio is synonymous with poverty and violent crime. Though in that moment on the streets, sheer joy radiated from these children, and I saw nothing but love, hope, peace and RIPSTIX (the name of the green sticks).
It was here where I met 6 year old Cristal. The beautiful little girl who was my unofficial translator for the group of children. With the little broken Spanish I knew, I had asked her if she knew who I was and why I was there. She had said, "You are a teacher from Canada. My friend". Although I am not a teacher in the traditional sense of a classroom setting, I was humbled to feel that I was someone who represented guidance, knowledge, and influence. In that sense, we were all teachers to these children (you will be glad to hear 20 children in La Carpio now know the geographical location of Canada, and that it is possible to reach -30 degrees outside of Costa Rica).


During my POUND class with these children, I noticed that they seemed to be more focused with this activity than the painting activity I did in the morning with them. It was as though the rhythmic beating of the drumsticks was hypnotizing for them. Was it because they've never seen POUND before? Was it because I wasn't speaking Spanish? Are they just naturally that focused?
After delving deeper into the
research
on health benefits of drumming (
see references below
), I've realized that they are not limited to physical health. The therapeutic benefits are beyond what I had expected.I've realized this activity was something I can bring further beyond teaching the children on the trip, and has possibilities to be an activity for the participants of Roto 0 to foster an increased sense of openness, togetherness, belonging, sharing, closeness, connectedness and intimacy, as well as achieving a non-intimidating access to traumatic memories. This is something I would like to explore further in the coming months.I am beyond thankful for POUND and Aftermath Association for providing me with this opportunity to give back, and for empowering these children in Costa Rica.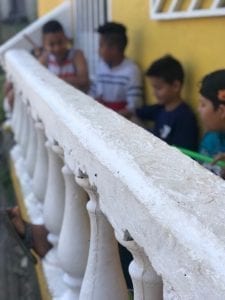 –Kathleen
Additional Reading:
* Science Shows How Drummers Brains Are Different From Everybody Else
* Music and Movement Share a Dynamic Structure That Supports Universal Expressions of Emotion
* The Wahlbangers Drum Circle Organization, a group based in Northern California