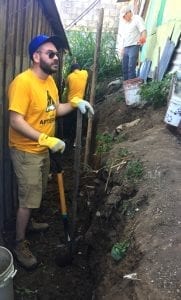 15-21 April is National Volunteer week, and this year's theme is "Celebrate the Value of Volunteering – building confidence, competence, connections and community." It's easy to think of volunteering as a one-way street – you use your time to do something for someone else. However, there's more to it than that. You, the volunteer, may not get paid, but you do benefit. You get to feel good about what you've done. You get to build connections within your community that you wouldn't otherwise have. You get to meet new people and forget new friendships that can change your life.
Volunteering is an excellent use of time, life's most precious resource. You can't make more time, you can't change what you did with it, and none of us know how much we have. That's not meant to be a disheartening point, but an encouraging one – make good use of the time you have. Camp Aftermath's method of PTSD treatment through active philanthropy means that time spent volunteering with Aftermath is a force multiplier. Not only do you help people directly, but you assist them in becoming volunteers themselves, creating a cycle of good. I think everyone can agree that the world could use a little more good, and a few more volunteers!
Pop on over to the Volunteer Canada website for more information about National Volunteer Week!