On 31 July 2019, Aftermath Association Chairperson, Farid Yaghini and Camp Aftermath Roto 1 participant, Cyriaque Davies were invited to the launch of the Ottawa First Responders Foundation. This charity will serve and honor all of Ottawa First Responders and their families with meaningful resources to create a lasting positive impact. Funds raised or donated go directly into programs to support the mental health initiatives, providing training, workshops, and access to clinicians.
First responders, their families, community leaders, and supporters came out in numbers to help launch this amazing charity. Over $30,000 was raised from local private businesses and donations.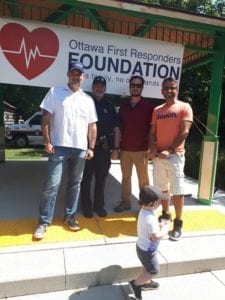 It was an honor for Aftermath Association's representatives to be invited to this event and to provide the Ottawa First Responders Foundation with a unique perspective on Camp Aftermath's approach to long-term management of PTSD through volunteerism and the development of positive habits.
—————————————————————————————————————————————————————————-
How you can help
There are currently many amazing programs that focus on helping veterans and first responders suffering from PTSD. If you believe in our cause, please help us make a difference in the lives of five military veterans and first responders slated to experience our three-phased program in early 2019. You can donate to our campaign on Canada Helps.
DONATE NOW