In less than two weeks, on 31 January 2018, myself and 16 other Aftermath Association volunteers will set off to Costa Rica to kick-off Camp Aftermath's Orientation Trip. I cannot help but reflect on how this all came to be.
I grew up in the military and travelled to remote military bases across Canada with my family. Both my parents served, as well as my grandparents. Joining the military seemed like a natural progression, but it was a decision I did not make lightly. I initially joined the Armoured Corp after high school and then served as a military musician before settling into my long-term career in communications.
I served for 16 years in the Canadian Armed Forces (CAF) and now currently serve as a Reservist while I work full-time in a civilian job. While in the CAF, I deployed twice to the Middle East and once to the Arctic.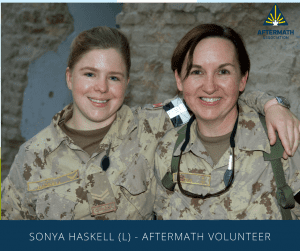 I decided to become an Aftermath Association volunteer because I have had experience volunteering with the rehabilitation of wounded warriors with PTSD and physical injuries through Team River Runner's White Water Kayaking program. I strongly believe in the benefits and results of rehabilitation and wanted to continue working with those looking for a way to move forward. Additionally, I admire the inclusiveness of Aftermath in how they encourage service members and first responders alike to participate in the program.
Long-term management of PTSD through active philanthropy resonates with me since many of the volunteers working in Team River Runner were veterans themselves who had overcome their own personal demons. I saw firsthand how helping others through the process gave a real sense of meaning to these former soldiers and helped them continue on their own journeys. There is no doubt in my mind that this is an avenue that would work very well for many individuals suffering from PTSD. While there is no one-size-fits-all remedy, Aftermath allows for different paths to recovery that I truly believe will be beneficial to a wide range of PTSD injuries.
My expectation for Camp Aftermath's Orientation Trip is to gain a better understanding of what Camp Aftermath participants will experience so that I can better prepare my friends and family who are thinking of taking this journey themselves. Most importantly, I'm excited to give back to the local community in Costa Rica while we are there rather than undertake a trip on my own and see the country without leaving a positive mark like Aftermath will leave.
– Sonya
---
How you can help
There are currently many amazing programs that focus on helping veterans and first responders suffering from PTSD. If you believe in our cause, please help us make Roto 0, our first retreat, a success and consider donating to our campaign on Canada Helps.
We are a registered charity with Canada Revenue Agency. For more information, please visit our status page on the Canada Revenue Agency website.
Thank you,