Aftermath Chats are our way of connecting the PTSD-support community and highlighting some of the amazing work being done.
Today we feature Dr. Bryan Pankow, an Ottawa and Smith Falls-based chiropractor and founder of Nobility Chiropractic. Bryan is dedicated not only to serving military professionals, and first responders but he has also donated his services for Camp Aftermath participants on Roto 1 which is scheduled to start in early 2019.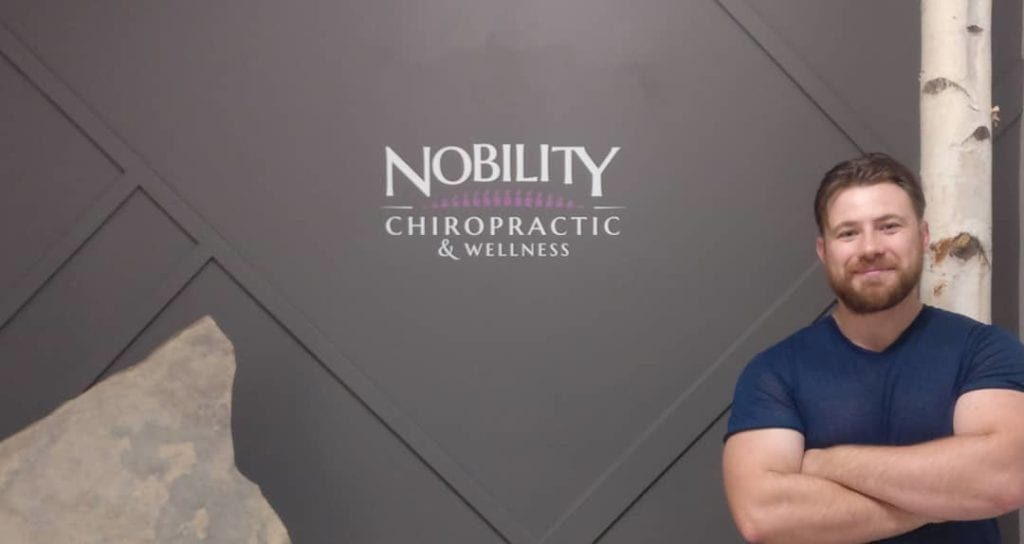 Camp Aftermath (CA): Tell us about yourself and your chiropractic practice. How did you end up in this line of work?
Since I was young, I've really enjoyed two things: athletics and building things. Just before school started in my grade 11 year, my family was taking a trip down to Kingston and we were in a car accident. We were hit by a pickup truck driving on the wrong side of the road. We were mostly okay, except my mom, who went in to shock on the side of the road and was taken to the hospital by ambulance. I thought I was going to watch her die that day.
Over the next several years, I was able to explore many facets of the medical world second-hand. My mom went through every avenue she knew of, medicine, physical therapy, acupuncture, surgical consults, medications, and after two years she was often bedridden and struggled to go to work more than a few days a week.
When I left to pursue my undergraduate degree in Kinesiology at Queen's University in Kingston. I didn't know what I wanted to do, but the thought of medicine was intriguing. Or maybe teaching – both my parents were in education, and I enjoyed working in schools and coaching. While at university, my mom began to see a chiropractor and quickly made progress. I remember returning home to find her out of bed and about the house, which was unusual, and then found out she had been at work four days that week. This was a huge improvement, and I became curious as to what a chiropractic was. Soon after, I was invited by her chiropractor to shadow him for a day and see what the profession was all about. I quickly fell in love with it and decided to pursue it as a profession.
While at Queen's, I learned that there were many ways to practice chiropractic, using various techniques. One technique, called Applied Kinesiology, really jumped out at me for a few reasons:
i . The chiropractors practicing it were all very adamant it was the best decision they had made, and that they were able to help people in new ways because of learning it,
ii. The chiropractors practicing it seemed to be the ones who had patients regularly traveling great distances to see them – I figured they must be doing something right
iii. AK involves some somato-emotional therapies, which are intended to help the mind through helping the body – I liked the idea of being able to help different aspects of health. As a chiropractor, I use these therapies primarily to lower overall tension in the body, though patients often report feeling more calm and relaxed following a session,
iv. Watching people practice AK, I had no idea what was happening and wanted to figure it out. So, I invested hundreds of hours learning what was behind AK.
CA: What is your connection with the Canadian military, first responders, and peak athletes? Why do you feel you can best serve such clientele with your unique approach?
While I've never served, my great-grandfather was a Comms Officer during WWII, though he never talked about it with me. But he would tell the older members of my family that even decades later he still had nightmares from the things he had endured during his time overseas. I'm actually named after him, and when he passed he entrusted me with his medals from the war. Until recently, that was my closest connection to the military.
In 2017, I graduated university but lacked a greater vision in my life. I had been so focused on getting through school that I hadn't looked past it. When I starting working at a family practice, I also began spending time at a local co-working space owned by a Special Forces Operator and his now-wife. The two of them became my biggest mentors, and helped me to find direction, and to develop the skills necessary to do so. I also honed my clinical skills with these mentors, who were excited, especially by the somato-emotional part of what I could do, and began sending other soldiers who they thought could benefit from my help. I began to really enjoy working with soldiers and helping them recover from the stresses they endure.
The other reason I love working with the Special Forces Operators specifically is that their mindset tends to center on what their mind and bodies are capable of; exploring human potential is something I find incredibly interesting.
Outside of the military, the civilian equivalent of this is peak athletes, who I also love to work with. I was a competitive athlete myself before leaving for Chiropractic College and I'm still very active. As such, I find that I respond very well to working with competitive athletes, and they tend to respond well to my work. Lately, I've found that football players, powerlifters, and bodybuilders make up a significant part of my practice.
CA: What do you think about Camp Aftermath's novel approach to PTSD treatment through active philanthropy? And it's one-year follow-up program?
I love Camp Aftermath's approach. I have had family members who suffered from some form of PTSD for decades; I wish programs like this had existed long ago. I like that the program is non-traditional, as a lot of non-traditional therapies for PTSD have shown positive results in recent research. I also love the year-long follow-up program to offer support beyond the initial program.
While the two-week deployment can be a great kickstart to teaching the participants new strategies for managing their symptoms, the year follow-up will help them solidify their routines and habits, to ensure that they can truly carry forward with what they learn in Costa Rica, and provide lasting results and management strategies.
CA: How do you feel about deploying with Camp Aftermath participants, volunteers, and our mental health expert, Dr. Whelan?
I'm excited to see not only what the experience holds for myself, but also for the participants. I've really come to love seeing the progress that can be made with these participants. Being able to share a transformative experience with them is one I'm looking forward to myself, as I normally see these patients in a more clinical setting. Getting to work with Farid and Dr. Whelan as much as I have has also been a wonderful experience; I have so much respect for the dedication and passion that they have for this project and I look forward to continuing to work with them!
___________________________________________________________________________________________________________________________
How you can help
There are currently many amazing programs that focus on helping veterans and first responders suffering from PTSD. If you believe in our cause, please help us make a difference in the life of five military veterans and first responders slated to experience our three-phase program in early 2019. You can donate to our campaign on Canada Helps.
DONATE NOW

We are a registered charity with Canada Revenue Agency. For more information, please visit our status page on the Canada Revenue Agency website.