The Camp Aftermath (CA) program is one year in duration and is comprised of three phases. Phase 1 focused on the suitability of the participants based on a review by CA and the participants' mental health experts. This process was two months in duration and consisted of weekly virtual meetings with CA staff to build a clear understanding of the program. It concluded with a two-day gathering in Ottawa to build trust within the group before the commencement of Phase 2.
Phase 2 consisted of a 12-day deployment to Costa Rica where participants and CA staff were involved in various acts of volunteerism, the development and practice of positive habits such as yoga, meditation, and healthy diets, and daily group therapy activities.
Phase 3 is perhaps the most important phase, as participants and CA staff maintain weekly and most times daily contact with each other. It is during this phase that the CA program attempts to instill the positive habits gained in Phases 1 and 2.
One of the main ways we ensured that the one-year follow-up becomes a success is by setting SMART goals:
Specific
Measurable
Achievable
Relevant
Time-bound
The SMART goal technique was used by our mental health expert, Dr. John Whelan, during the latter stages of Phase 2 as a means of setting up participants for success upon returning to Canada so they could regain their independence and a sense of purpose.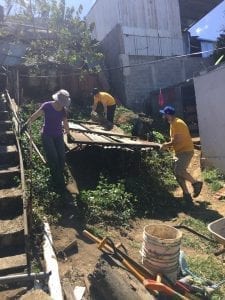 We believe Phase 3 is what truly makes the CA program special. The follow-up component keeps the participants engaged in the efforts of self-optimization by maintaining a connection with the group. This then allows them to inspire each other moving forward. Furthermore, the follow-up holds the participants and CA staff accountable to each other as we discuss our goals on a weekly basis and discuss our gains and setbacks and how we plan to move forward.
Phase 3 is included in the CA program because feedback received from veterans and first responders who have participated in a variety of PTSD programs indicated that at least some of them wanted a follow-up portion in a program which would assist them in maintaining their momentum. Participants indicated that in most cases they came out of a program on a "high", as they were excited about their experiences but had then "crashed" several days after returning home. At CA, it is our hope that Phase 3 will provide this sorely-needed follow-up component to maintain participants' momentum as well as continuing the sense of camaraderie that was fostered earlier in the program amongst participants.
______________________________________________________________________________________________________________________________________
How you can help
There are currently many amazing programs that focus on helping veterans and first responders suffering from PTSD. If you believe in our cause, please help us make a difference in the live of five military veterans and first responders slated to experience our three-phased program in early 2019. You can donate to our campaign on Canada Helps.