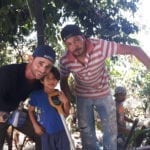 Camp Aftermath really surprised me in terms of expectations. I went in with an open and somewhat desperate mindset. It has been years since my life has made sense. Not since I left the military in 2016. I self-isolated myself to a point where even answering my phone was a challenge. It was a very lonely place. I wanted to be far away from my military colleagues because I was embarrassed of where my life had taken me. I went into Camp Aftermath very cautiously. After a few days, however, I noticed that I was genuinely connecting with everyone involved, a feeling I instantly realized I had been longing for. What I found was a group of men, like me, who all had similar struggles. I quickly identified that everyone on this journey had found themselves in a spot where further failure was simply not an option. This made it very easy for me to communicate and just be vulnerable and present with the program. Upon returning, I realized that, unlike other groups I had attended, I came home with a dedicated group of men and women that I can confidently call my friends. I communicate with them on a daily basis. I cannot recall a time, post-military, where I've been this positive and okay with my life and my future. I found what I was missing. These relationships I have built are going to be the cornerstones of my recovery.
Kris served in the Canadian Armed Forces for 14 years. He deployed to CFS Alert and Afghanistan.
---
How can you help?
There are currently many amazing programs that focus on helping veterans and first responders suffering living with PTSD and operational stress injuries (OSI). If you believe in our cause, please help us make a difference in the lives of five military veterans and first responders slated to experience our three-phased program in early 2021. You can donate to our campaign on Canada Helps.