On 9 June, Camp Aftermath teamed up with Vimy Brewing Company to host a fun-filled night to raise funds towards Roto 0 in early 2019.
Our hosts, the Vimy Brewing Company, did an amazing job in guiding us through the beer tasting portion of the night, in addition to giving us a tour of their brewery, which is where the magic happens.
Great times were had by all in attendance, as we raised nearly $600 towards our goal of $20,000.
In addition to the donations received, Camp Aftermath's influence expanded within the mental health world as representatives from Warrior Adventures Canada and Calabogie Winter Sports Clinic, two amazing organization who have been helping veterans and first responders in their own unique ways, were in attendance.
A special thanks to all who attended this special night, especially all Camp Aftermath volunteers and supporters.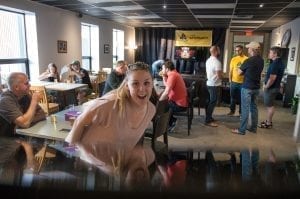 Our next fundraiser will be held on 28 July at Vimy Brewery, when Camp Aftermath will host its first trivia fundraiser! For details, visit our Eventbrite page. Hope you can join us!