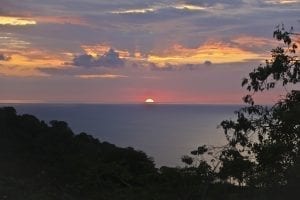 Happy New Year from Camp Aftermath! I would like to share the amazing accomplishments that the Aftermath Association has achieved in such a short period of time. Our achievements are a complete reflection of our hard-working volunteers and supporters who have worked tirelessly, providing both their time and expertise. This year was a whirlwind for Aftermath:
On 21 January 2017, We held our first Constituent General Assembly (CGA), where we elected our Board of Directors, Executive Committee members, and celebrated our officialdom.
Things moved quickly after that. In February, a five-member Aftermath Association (AA) delegation visited Costa Rica to explore possible locations where we could establish Camp Aftermath. We also had the opportunity to network with other charities, with whom we will likely collaborate in the future.
In April, the Costa Rican Humanitarian Foundation (CRHF) became Camp Aftermath's official sister charity; it will provide the platform for participants to engage in philanthropy during their rehabilitation. Gail Nystrom, the founder of CRHF, has over 40 years experience in charitable work in Costa Rica. She helped to create the itinerary for participants.
Also in April, Dr. Whelan, a registered Psychologist and Director of Assessment-Treatment Services for Whelan Psychological Services, joined our Advisory Committee and became our mental health expert. In addition, Camp Aftermath officially launched its social media presence on Facebook, Instagram, and Twitter.
May and June were busy months, as the Aftermath family gained the service of amazing professionals, including Rob McCallum, a successful crowdfunding expert and award-winning filmmaker, and Aldo Visaggio, a professional videographer with over 20 years' experience.
In July, Camp Aftermath successfully launched our first fundraising event at Karters' Korners in Stittsville, Ontario, with the aim of raising funds towards our $10,000 goal for our Roto 0.
In August and September, Aftermath volunteers traveled to Costa Rica with participants who suffer from PTSD and took them through a mock itinerary. We also visited various sites where future participants will engage in self-healing as part of the Camp Aftermath program.
In October, Aftermath Association volunteers traveled to Toronto, where they were invited by Dr. Westwood and Dr. Whelan to attend the Canadian Institute for Military and Veteran Health Research (CIMVHR) conference. Additionally, we took part in the 2nd Annual Cpl Nathan Cirillo Memorial Cup Challenge at Mooney's Bay in Ottawa. At the event, we had the honour of supporting Boots 4 Pups, an Ottawa-based volunteer committee raising awareness and funds throughout Ontario and Quebec to support Citadel Canine Society (CCS).
In November, we took the next big step towards realizing our dream of deploying our first rotation of participants (Roto 0) to Camp Aftermath in Costa Rica by launching our GoFundMe campaign.
In December, we continued to build relationships with like-minded organizations, including VETS Canada and ProjectBe.
As I write this blog, I am even more in awe of our dedicated volunteers, advisors, and supporters who are committed to our goal of creating a sanctuary where we will implement our unique approach to longer-term management of PTSD through active philanthropy. It has been an honour to be part of this family, and I am grateful for our amazing progress this year as well as the growth I have personally experienced as a person, just being in the presence of such bright, kind-hearted people.
All the best in 2018!
-Farid