Sports have become a universal language that transcends boundaries, and unites communities despite cultural differences.
On April 6, we celebrate the International Day of Sport for Development and Peace (IDSDP) and raise awareness for the powerful impact sports has on social development and promoting peace. Sports bring people together and the principles developed through sport, run parallel to those essential to peace –cooperation, leadership, respect, sharing, understanding and teamwork.
Beyond these values, sports has a positive influence on health and economic development. According to the UN, sport  also encourages:
Individual development

Health promotion and disease prevention

The promotion of gender equality

Social integration and the development of social capital

Peace building and conflict prevention/resolution

Post-disaster/trauma relief and normalisation of life

Economic development

Communication and social mobilisation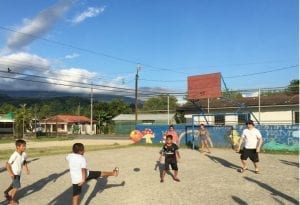 Camp Aftermath is grateful to have witnessed first-hand the power that sports have. On the most recent Orientation Trip, volunteers took to the streets of Costa Rica and conquered the boundaries of language and cultural difference, using sport as a tool of communication and compassion. Because although we were all of different ages, races, and genders, we were all united by one thing in that moment and nothing else seemed to matter.
The following quote by Wilfried Lemke, Special Adviser to the UN Secretary-General on Sport for Development and Peace, accurately sums up the importance of celebrating this day:
"Sport has the capacity to empower individuals and bring one's moral values to the forefront; it can play a strategic role in transferring life skills and communicating useful, encouraging messages on important issues, thus driving social change. This new commemoration on the international calendar will further promote the value of sport as a catalyst for development and peace."