Every wonder what it feels like to be a participant at Camp Aftermath? The below interview was with Scott, a Roto 1 participant. We had a chance to talk with Scott Snow, who was a participant on Roto 1, during Camp Aftermath's deployment to Costa Rica to get his thoughts on his involvement in our program.
Camp Aftermath (CA): Tell us a bit about yourself.
Scott Snow (SN): My name is Scott Snow. I am a military veteran. I started off as a diver, then became a firefighter, and finally retired from Canadian Special Operations Forces Command (CANSOFCOM). I served for 15 years and retired in 2015.
CA: How did you hear about Camp Aftermath?
SN: I heard about Camp Aftermath through Project Trauma Support (PTS), which is another program aimed at helping veterans and first responders.
CA: How do you feel about your Camp Aftermath experience?
SN: It's been a great experience to get outside of Canada and put the focus on ourselves and not everything else around us. It has also been great bonding with other veterans and first responders.
CA: What are your thoughts on the volunteering aspect of the program?
SN: It's nice to give back. It's fulfilling, it's rewarding, and it gives you that sense of purpose that we have all been lacking for the last few years.
CA: What has been your favorite part of volunteering in Costa Rica?
SN: My favorite part was seeing the house come together from start to finish. [Editor's note: Camp Aftermath participants helped build a house for a refugee family in La Carpio, a slum area of San Jose, Costa Rica.] From digging the holes to the completion of the house and the roof going on, it really provided a sense of accomplishment.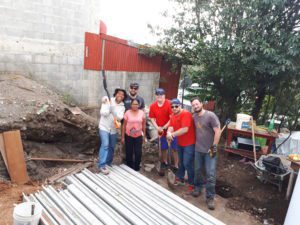 CA: How did you find connecting to the Costa Rican people?
SN: It was nice. I was apprehensive at first, was not sure about being in a different place, different culture and surrounded by people but it was great. They were so welcoming and it was such an easier transition than I ever expected.
CA: What was your favorite part of the deployment to Costa Rica?
SN: My favorite part has been connecting to fellow participants who are veterans and first responders. I have been lacking that sense of comradery and friendship.
CA: How do you feel about moving into the final phase of Camp Aftermath's program (Phase 3) after Costa Rica?
SN: I am really looking forward to staying connected to the friends that I have made here, both participants and staff. I'm looking forward to our weekly scheduled video teleconferencing meets and physical meetups. This is critical, as some other program lack the follow-up and you just kind of fall off when the program is finished.
CA: What was your greatest fear coming into Camp Aftermath?
SN: My greatest fear was being away from my wife and kids for two weeks. I have not left them for more than three days but it was totally worth it.
CA: What would you say to future Camp Aftermath participants?
SN: I would just say embrace it from day one. Don't wait until day two or three to embrace it and get involved, just get into it form the get-go, take a chance and it will pay off for sure.