In early September 2022, Camp Aftermath (CA) launched Roto 4. As CA's first male and female cohort, Roto 4 also represented the most diverse group of participants thus far, including participants from the 2SLGBTQ+ community and a participant from Nunavut. Roto 4 was two years in the making do to the COVID-19 pandemic, so it also served as a sign of resilience for all volunteers and supporters alike. Volunteers worked relentlessly with months of fundraising, outreach, and screening applicants, more months of conducting video teleconferences (VTC) with qualified participants, and arranging volunteer projects with our sister charity, Camp Garagona, where Phase 2 was to take place. Camp Garagona is an amazing charity that supports adults and children living with intellectual disabilities and/or autism spectrum disorders. Needless to say, none of this would have been possible without the dedication of our volunteers and supporters.
Phase 1 began with VTCs in early 2022, as participants and CA staff including our team of mental health experts got to know each other before meeting for Phase 2 at Camp Garagona in Quebec. These initial VTCs enabled the participants and CA staff to become better acquainted with one another and to start the process of building trust and camaraderie.
Phase 2 kick-off on 15 October as CA staff and the participants met in Camp Garagona for our one-week retreat. Phase 2 included group work and therapeutic activities in addition to daily volunteer projects supporting Camp Garagona clients. The activities focused on the importance of breath, journaling, yoga, meditation and other self-optimizing activities. Almost immediately, all participants became aware that CA mental health experts and staff were not only overlooking the process but were actually participants themselves. All CA staff led by example by expressing their vulnerabilities and acknowledging that they needed the group as much as the group needed them. Daily volunteer projects included preparing Camp Garagona grounds for their annual Halloween celebrations, landscaping and grounds maintenance in addition to pumpkin carving with Camp Garagona clients. The last days of Phase 2 were integral for both participants and CA staff to ensure that all of the techniques and tools they learned and gained from their experience will result in long-lasting change. Participants set goals while the group cemented its bond by determining to hold themselves accountable to one another; they understood that the hard work has only just begun and will be mainly accomplished in Phase 3.
Phase 3 started on 2 November and is the one-year follow up portion of the CA program. Throughout the rest of 2022 and into late 2023, the participants and CA staff will communicate on a daily or weekly basis to share the ups and downs along their journey to achieving the goals which they had set as a group in Phases 1 and 2. This will mainly be accomplished via VTCs, meet-ups in person, and private chat groups.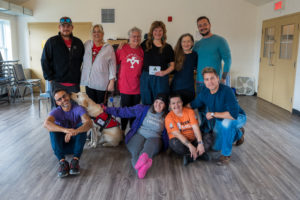 As the Chairperson of Camp Aftermath, I am immensely grateful for all the help and guidance I have received in the past few years so that my initial vision for Camp Aftermath could be realized. For me, this entire experience has truly been life-altering and I am truly grateful for the evolution of CA to include such a diverse group of participants from all over Canada. I am so appreciative of all the CA volunteers and supporters who made Roto 4 possible. I am thankful for our Roto 4 participants, both veterans and first responders, who showed their vulnerabilities but were receptive to learning new strategies to help them live with their PTSD. It was clear that many of the volunteer opportunities they partook in had a positive impact on them. I am thankful for Camp Garagona for providing us the platform to once again serve and live with purpose, I am thankful for our mental health experts, Lise Preston and Dr. Karen Shue, and Dr. Dan Taylorwho were on the ground with us in Camp Garagona and continue to be involved as we shift to Phase 3 For me, this experience has been about so much more than helping others: it has also enriched my own life and has resulted in my own self-improvement.